I say mid-pandemic because the reopening of economies across the world is proceeding, albeit unevenly, the stock market is assuming the best for economic recovery and an early vaccine (assuming people will line up for it), empty-stadium professional sports is returning, and people are venturing out increasingly. However, like anything that is midway through the endgame is far from certain.
Forecasts
As for real estate we can start with CMHC's Housing Market Outlook around the end of May. Their forecast for sold properties nationally was for the average MLS® price to "decline by 9% to 18% from pre-COVID-19 levels before beginning to recover in the first half of 2021", and price levels could "return to their pre-COVID-19 levels by the end of 2022.
Then we can consider Globe & Mail Rob Carrick's "Five numbers …": https://www.theglobeandmail.com/investing/personal-finance/article-do-you-have-high-hopes-for-the-housing-market-these-five-stats-will/
$1.77 of debt per $1 of after-tax household income
734,000 borrowers who deferred mortgage payments in June
67% of households surveyed by TransUnion (credit agency, like Equifax) are concerned about their ability to pay bills and loans.
5.86 million Canadians 18-70 yrs old, or 22.7% of the total in that age range, assessed as being "financially resilient". Subtracting the in-betweens left 50% being financially vulnerable or extremely vulnerable.
42.1% of 20- to 24-year-olds returning to school were unemployed in May, vs. 10.8% in May 2019.
A prediction that's out there: Just wait. The housing market won't be what it used to be for years.
The data
It's still early days and governments are printing money like crazy. The long-term effects on the economy and the governed are in doubt, but the short-term effects on real estate show a rebound.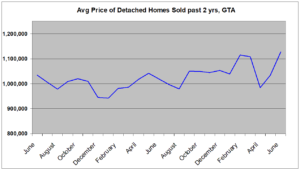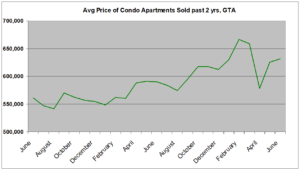 What's happening
One fundamental explanation for the rebound: 3 months worth of buyers crowded into 1 month when there were 29% fewer listings vs. June last year. Most owners can wait while many buyers have sold or have given notice. Add to that FOMO – the Fear Of Missing Out, which the industry is masterful at stimulating – plus super-low interest rates and … boom.
Keep in mind that average sold prices can be skewed simply by the proportion of high-priced vs. low-priced properties among those sold (imagine the average prices of cars sold if European makers have a great month).
To try to reduce the skew I looked at similar property types in bounded areas. I had to use large search areas to collect enough sales, especially with very low sales in April and May. In doing so each search area included a diversity of neighbourhoods. Nonetheless the data should better reflect actual market value trends than GTA-wide averages. And as you can see, the trend is up.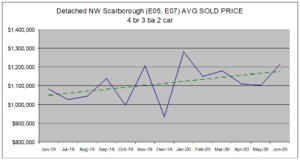 But what's the endgame? Up, up, and away? That what a lot of investors are assuming about the stock market while some serious people have serious doubts.
Here's the trendline for buyers of detached houses who succumbed to FOMO in Q1 2017.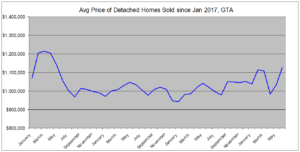 Over 3 years later they're still underwater with their big downpayments and even bigger mortgages. The present gust of wind at their back might reverse in the next little while. Those who come out on top in current bidding wars might not feel like winners down the road.
Still, there are opportunities. At the macro level condos have been outperforming detached homes (see my January blog post below). Within trends across property types specific situations will favour the seller, and specific situations will favour the buyer. My best advice: work with a realtor who is less a cheerleader motivating you and more an advisor encouraging mindfulness.